Seen a baby on whom sunlight falls? Its skin is lit in a warm glow and shines ethereally. Unfortunately this happens when we are not even aware of makeup. And when we take the blush brush first time in our hands, we dream of getting that same glow that we sported 20 yrs ago.
How do we get the glow back? How can we make our skin luminous and radiant? These questions pop up all the time but we are clueless about where to find the products that could do all this for us.
I'm going to tell you my insights about getting this amazing baby glow again. Lets see how the skins glow differently: -
Fairer skins with pink undertones have a heavenly whitish pink to ivory colored glow on the areas of their face where light hits. Please do not forget that our FACE has dimensions.
Fairer skin with warm undertones dream to have peaches and cream complexion. They have a slight peach-y golden halo.
Medium skins range from a rosy to a peach-y glow.
Tanned skins have this sultry coppery bronze glow that makes them look very attractive and heavenly.
Darker skins have a bronze orange halo on the light hit areas with golden tinge.
This sounds so heavenly but we should learn how to sport it.
Lets begin with skin care. The skin that is regularly exfoliated shed a lot many dead cells and reflects light readily. The dullness in the complexion happens when the skin is not reflecting light and is flaky in appearance. A gentle daily exfoliation that removes only surface dead cells and allows the cells below to get their daily dose of moisturizer is enough to get s speedy cellular turnover and glowing skin. A weekly peel or a scrub having micro jojoba beads exfoliates the flaky rough dead cells revealing a smooth complexion underneath. AHAs not only exfoliate but also retain the pH balance of the skin making it much more blemish free and glowing.
On this smoothened cellular surface, treatment and makeup products slip better and stay put for a longer time combating chalkiness and an artificial masked makeup look.
A daily skin routine and once a month visit to a salon is all that you need if you are already blessed with an amazing skin. These products could be of your choice or recommended by your cosmetologist.
Makeup too has innovations that can impart a dewy skin that is hassle and mess free. I covet on some of these products that have been staples in my beauty kit for sometime and completely vouch on them for that eternal glowing skin.
FOUNDATIONS et al : -
Clinique Super Moisture foundation for drier skin gives that ultimate radiance.
MAC Hyper Real does the same thing blessed you are with a very dry skin.
I love Clarins True Radiance foundation that is sleek enough for oily skins to sport as well and so is Dior's Nude skin foundation that feels like a Fendi bag for your skin.
Love YSL's Teint Parfait Complexion Enhancers in all colors being particularly biased to shade no.3 with beige gold highlights.
CONCEALERS: -
Concealers have photo optic light reflectors to conceal and brighten under eye area and reveal a brighter complexion. YSL Touche Éclat, Clinique Air brush concealer, Dior Flash Radiance and Clarins Instant Light Perfecting Touch are unbiased winners in this category. Just love them.
BLUSHES and ILLUMINATORS: -
Clinique makes an oil free illuminising lotion called UPLIGHT ILLUMINATOR that looks like rocket science. Just a few dots and you look radiant and glowing.
I also love the Clinique Fresh Bloom All Over Color that has three coordinated colors with a thing for contour, color and highlight and the Shimmer tones in Bronze which gives just from the beach effect. MAC makes sheer tone and sheer tone shimmer blushes that are a must have in everyone's makeup kit. I especially love TRACE GOLD, SUNBASQUE and PLUMFOOLERY in their regular line. Not being a pink highlighter person my favorite shades are gold and peaches that impart warmth on Indian skins.
Shiseido Accentuating Sticks are cream to powder formulations that give this wonderful halo on the skin.
MAC's Naked Honey Collection has this ultra flattering mineralize skin finish in Honey Light which give s a subtle hint of color and an amazingly radiant complexion.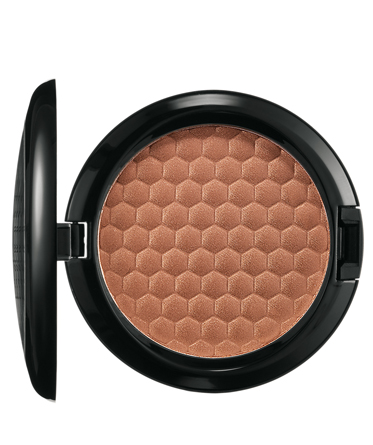 Others I trust are Benefit Blushes, Tarte Cheek stains and Smashbox Cosmetics Fusion Lights which are truly mesmerizing.
To apply these highlighters I strongly recommend a fan brush that is made for subtle applications. Do grab one from MAC or NYX cosmetics, but I love my Benefit Fan Brush.
I would love to hear from you, your glowing secrets and recipes. So do write them in COMMENTS.
Till then,
Ciao