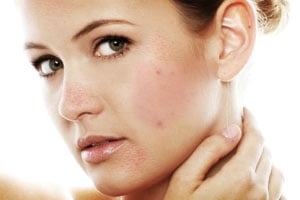 Almost everyone at one point of their life suffers acne. Regardless of the stage in life one may be,
this is one of the most annoying ailments one goes through and in most cases a nuisance. Natural
Acne Treatments are therefore everyone's favourite are they are known to work well with all skin
types.
Lets see how to treat acne with natural methods and remedies..........
Unlike medicated remedies, these natural methods have no side effects. These remedies are so
effective such that people with sensitive skin also use them. In return, they improve the overall
health and beauty of anyone who uses them. Here are some tips that are sure to help you heal your
acne and prevent them in future.
Food, vegetables and Fruits: one needs to eat a healthy diet in order to have a beautiful and healthy
skin. The skin is actually the largest organ in our bodies. If we do not eat plenty of fruits, vegetables
and drink plenty of water, the skin is always ready to tell the world what we have been up to. Foods
are the best natural acne treatment readily available in the market.
Acne breakouts are usually caused by lack of zinc in the diet. Foods that are rich in vitamin A
strengthen the protective tissues of the skin. They also rid the body of toxins. Chromium is known to
heal the skin from acne.
Hygiene: cleanliness is the best way to make sure you do not spread acne all over you face. Apart
from killing deadly germs that cause other diseases as well, making use of water and soap can
actually help reduce acne. It is recommended that beddings and pillow cases should be washed
daily.
This is because they absorb dirt and oils from your skin and if they are not regularly cleaned, you can
be sure to have plenty of acne. Hygiene is also extended to our bodies. It is best to use sulphur based
soaps designed for acne to get the best results. You can clean your face with this soap twice daily.
Makeup:
Natural Acne Treatments
to do go well with makeup. If you apply makeup on affected
skin, it can only get worse. For the sake of a healthy and beautiful skin, one should avoid heavy
makeup. If you cannot do without makeup, try the water based types since these do not block the
skin pores. Acne can also be caused by blocked pores since they are not able to take out waste from
our bodies.
Honey Mask: using honey mask twice daily on your skin will act as a disinfectant and clear your skin
of blemishes. Honey has antibacterial properties and is gentle even on sensitive skin.
Hair: hair care products contain oils that contribute to skin breakouts. Therefore, it is important to
avoid hairstyles that come to the face. While your hair is being processed, it is also wise to avoid
contact with your face. You should also wash your hair after workouts and after every two weeks.
This article was submitted by Mr. Bharat. I hope it has proven useful. Do share your insights on acne treatments in the comments section.
Till then,
Ciao
Please do not copy any pictures or content of Beauty Traveller without prior permission. Thanks for reading my blog. I don't give 100% on the authenticity of the content here and it is subject to change without prior notice. Please read the disclaimer for any questions. The author has not paid or endorsed anyone to make guest posts for him. This is purely educational and a food for thought