I wanted to do a modern take on old school Hollywood eye makeup by replacing the black liner with a bright looking brown liner. I love leather and tan colored liners that are browns with a bit of red in them. They can accentuate the eyes and make them look amazingly darker in color. This is the simplest makeup one can do when in rush and is something that can be done by all.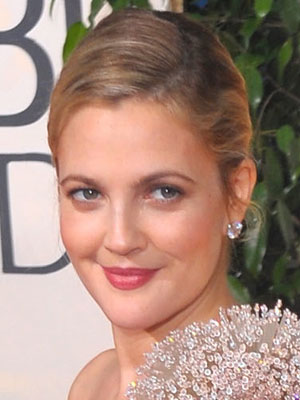 Drew Barrymore is the inspiration for this look and see how soft and muted it looks yet creates an aura around her.
So lets see how to do this look...........
Conceal the under eyes to wake them up. If your under eyes look dry and dehydrated use a very good eye cream to plump up the lines and let the concealer glide. Use fingers to apply and dab the concealer to push the product within the skin as the heat of the fingers helps melt the concealer formula.
To create a high arched brow you can mix apply powder and brow pencil in turns to fill gaps and create the desired shape. It can be easily achieved if you get a brow stencil from NYX cosmetics Brow kit and there are perfect brows in seconds.
Apply NYX Slide on liner in Brown Perfection starting from the inner corners and going thicker as the goes outwards and then drawing a small flick at the end of the eye to create a lift.
With a pencil brush smudge to soften the harsh lines and create a smokey haze.
Apply Too Faced eyeshadow in Exclusive shade over a brown liner to smoke out the eyes and create a desired shape. On the outer third of the lower lid apply this lovely leathery brown shadow and create a lift.
Apply Too Faced eyeshadow in Totally Toasted all over the lid. I love this honeysuckle colored shimmery eyeshadow that looks simply divine for a day look and equally smoldering for the evenings.
Contour the crease with the same brown Exclusive Shade eyeshadow and create a V shape that extends beyond the eye in more of a triangular shape. The best way to achieve a shape like this is to blend the color towards the area where your brow ends.
Apply Girlactik cosmetics eyeshadow in Satin in the inner corners and subtly over the inner two thirds of lower lid to brighten up the eyes.
Curl the lashes with Shiseido Eye lash curler and apply several coats of MAC Zoom fast black lash mascara to get lovely peepers.
I darkened the lash line with the same brown eyeshadow to create high impact. As shown in the picture of Drew Barrymore an earth toned red blush and earthy red stained lips look wonderful. You can modernize this by applying rose colored blush and rose colored lips.
PRODUCTS USED

Clinique Blended Face Powder

MAC Blush in Ambering Rose, Desert Rose and Breezy - mixed and applied very very subtly

Clinique High Impact Lipstick SPF 15 in Toasted Rose
Too Faced Pixie Perfect eyeshadows in Exclusive Shade and Totally Toasted

NYX slide on liner in Brown Perfection

Girlactik cosmetics eyeshadow in Satin

MAC Dark edge eyeshadow + Bourjois Sourcils brow pencil in Ebony

MAC Zoom Fast Black Lash mascara
Hope you like the look. Do let me know in the comments.
Till then,
Ciao
Please do not copy any pictures or content of Beauty Traveller without prior permission. Thanks for reading my blog. I don't give 100% on the authenticity of the content here and it is subject to change without prior notice. Please read the disclaimer for any questions.