I solemnly promise that I will never do a 'no buy month' after so many things that are happening around. While we roll ourselves in the fluffy blankets and sit besides the fireplace (not all though) and drink a warm mug of hot cocoa (LOL, the mug is warm and the cocoa is hot) brands have started releasing their Spring/Summer collections.
I dont know whether I should call it branding or it is desperation that the brands have to launch their collections so early. But none of these bother me and I am happy that I can get a glimpse of what I should take for Beauty Traveller for Spring 2013 and find another reason to be happy. Btw I would be helping and assisting my friend Prerna to start her new and utterly interesting blog called
Work, Beauty and Pray
. She is a celebrity, a multi talented personality with a flare for beauty and shopping and the reviews on luxury brands, hauls and looks that we would share would carve a niche in luxury makeup world.
Anyways lets see what entices me this Spring Summer (not all products were launched in Spring Summer though)............
GUERLAIN
I think I may shift to the family house of Guerlain soon with the way I have shopped. To sum up, in a month's time, I have -
1 Loose Powder
2 Meteorite Pressed Powder
1 Parure De Nuit highlighter
7 Kiss Kiss Pearl glosses
3 Kiss Kiss Lipsticks
6 Rouge G Lipsticks
2 Cream eye glosses
5 Eyeshadow Quads
3 Mascaras
4 Foundations
4 Terracotta glosses
1 Rouge Automatique
3 Terracotta Bronzers
thats it.....anyways thats not the point and lot of them wont even make into the reviews. I plan to start writing after purchasing their latest collections as most of the items I purchased were limited editions.
This Spring 2013, Guerlain's collection rotates around their new mascara named Cils D'Enfer. Although its launched world wide, India will get the collection in February.
My wish list is -
CilsD'Enfer mascara in Noir
Eyeshadow Quad in Coup De Foudre with the weirdest and most unique combinations of grey toned greens with a vibrant coral. If temptations and money permit then I will also buy the violet shadow quad called Attrape Coer.
And then I may purchase the Rouge Automatique in Romance and Kiss Kiss Gloss in Cherry Fizz. Saying NO to the meteorites though not feeling to say so.
CHANEL
Chanel's Spring 2013 is called Printemps Precieux and is not very complicated. Its launching on January 17th in India and I am not so keen to really pick up anything until the Joues Contraste blush caught my eye.
I am eyeing this luminous apricot blush of theirs and if it really surpasses my expectations colors wise then I am going to pick it for sure. Their highlighter does not look like keeper as I already bought Lancome Moonlit Rose and Guerlain Cruel Gardenia which are almost the same.
This is the entire collection...............Dont know whether I should go like others and swatch in the store and come back feeling happy? Isn't it better to swatch these instead of swatching MAC products..LOL
CHRISTIAN DIOR
The relation of Monsieur Dior and bows is legendary and this collection is an ode to his memoirs and his designing expertise. I see a lot of pinks in the Dior's palette for the season darkened by a pure jet black shade to add intense contrasts. The collection is called Cherie Bow..........
They have these limited edition palettes but the colors do not look wearable on Indian skin tones.
The blush however looks promising but after reading reviews it looks like a complete skip for Dior this time too. The collections don't flatter so much, dont know why?
However these single eyeshadows look quite promising and soon shall be launched so it makes sense to buy these.
LANCOME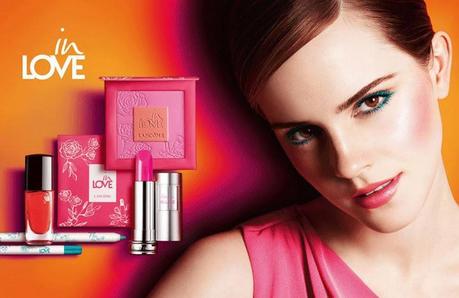 Nothing great from Lancome In Lover Spring 2013 collection. The blush is beautiful but the fact that its cardboard packaging put me off. Since I am not a lipstick person and whatever I have are for professional work (except a few) thats all a skip. The only product that caught my eye is the teal colored eye pencil which looks like worth purchasing.
The Beach Grass quad looks lovely as I get attracted to neutral and gold tones faster while the blush called Starfish is very attractive. If it does not clash with Chanel's Apricot then this seems to be in the list as well. Btw you must try their Shimmering Cream eye color eyeshadows. They are created by genius and literally forged by the elves seeing the magical dreamy texture.
YVES SAINT LAURENT
Last but not least is YSL Spring 2013 and it looks like lot of bright eyeshadow quads this season. With YSL pure chromatics being a high priority in my wish list I may be picking up something from them provided the wallet permits and I feel a sense of well being at the makeup counter. YSL has been a bit lost since they shifted their base to L'Oreal so I hope something promising happens when they launch new stuff.
Thats all for now from the Beauty Explorer. Soon shall be reviewing what I purchase and keeping all posted.
Hope you enjoy the winters till they are there and have a wonderful time. Do share in comments your wish list for Spring 2013 makeup.............
Till then,
Ciao
Please do not copy any pictures or content of Beauty Traveller without prior permission. Thanks for reading my blog. I don't give 100% on the authenticity of the content here and it is subject to change without prior notice. Please read the disclaimer for any questions.