Eye liners are my weaknesses...not in terms of buying but in terms of applying. I can say that eye liner is the most difficult thing on this planet to apply. You need a symmetry and a free hand to draw that perfect line. And trust me, the Youtubers make it so easy to look at but its not...It takes immense practice and until and unless you have the right product or the right brush its always going to be an average liner and not a great one.
Now the eye liners that I am mentioning are the ones that I may have or they are in my wish list. This top 5 comprises on the all the genres from pencils, eye liner pens, gels and the toughest of all liquid liners....Btw you may have noticed in some of the last posts that I haven't mentioned much of MAC!! Its because I didn't buy anything from them except this one product that I shall talk about in a while....Before anyone calls me a hyprocrite, let me say that I do love my
Bourjois 16 HR Khol and Contour eye pencil in 'Ultra Black'
but I already have a lot to finish and did not purchase any this year which is why I am not mentioning them.
So lets see the Top 5 favorite eye liners of mine....
YSL DESIN DU REGARD WATER PROOF EYE PENCIL
This or rather these eye pencils are one of the finest and luxurious specimens in the world of makeup. These pencils glide like butter, stay put like a gel liner and are just simply waterproof. Now buying one is definitely an extravaganza but why not spend on something that is so useful. I got the lovely sleek black one which also comes with a built in sharpener. Seems like YSL does not want any other sharpener to touch the pencil. Just a small folly is that the pencil needs sharpening quite often so buy it only if you want a piece de resistance which you can entrust upon. I love it for its extremely dark color and staying power.
MAC CHROMALINE GEL LINER IN BLACK BLACK
With MAC Pro store opening in Mumbai, its a blessing. I had seen quite rave reviews of this so wanted to see whether its worth the money. And I must say it is....This is such a long wearing, quite non smudging gel liner cream I have almost seen after a long time. And it comes in a wide spectrum of colors that may not even be thought of. Actually these are multi purpose products and can be used for drawing on any part of the body. Luckily they are safe for eyes. One small folly here is, although its intensely black, you still may find it grey on the first application. It just gets blacker when layered and for full intensity you can put 3 layers. The best part is that the dried liner does not break when layered the way others do.
L'OREAL SUPER LINER IN BLACK LACQUER
This is one of the best eye liners I have ever picked up. Although I have the Maybelline Hyperglossy one, its pointless to use since its not waterproof. But this one is and it gives such a magnificent finish. I love the sheen, that plastic effect (patented leather effect) that these liners give. And it lasts through the entire day too. L'Oreal does make some of the best liners in the market and should be tried in case you haven't as there's a stepp gap in the pricing between L'OReal and higher brands when it comes to liners only.
YSL FAUX CILS SHOCKING LINER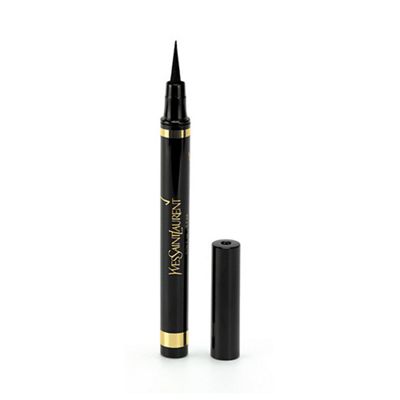 This is the blackest black, most luxurious eye liner I have ever seen. Its just the price of 1810 INR that is being a coup de grace to my aspirations. This is coming soon and its going to have its share for me to rave about.
KRYOLAN CAKE LINER
I got this yesterday. I never knew the goodness of the cake liners since yesterday when I got it first. These are the most controllable liners according to me. You wet your brush and make a paste out of the cake liner and use it to line or draw and then a dry pigment is deposited on the lash lines. The only problem is this is not waterproof for which Kryolan does recommend using a gel sealer. I am going to find out how Illamasqua fairs in the liners section as they are a brand developed and manufactured by Kryolan only.
So these are some of the best eye liners I have and plan to buy in the future. I also love the liquid liner from Guerlain for being intense black but its nowhere near my budget at the rate of 2310 INR...
Do share your favorite liners too!!!
Till then,
Ciao
Please do not copy any pictures or content of Beauty Traveller without prior permission. Thanks for reading my blog. I don't give 100% on the authenticity of the content here and it is subject to change without prior notice. Please read the disclaimer for any questions.