I have always been asked about the best brushes one could buy in India and on online shopping sites that send these brushes to India through free or paid shipping and I hope I shall be able to give my best 5 brushes. Now I am putting this into some sub categories so that I can put in extra brushes which are really fantastic. There are some of these brushes which I may not own for now, but I have seen them with colleagues and friends and models and clients et al. These brushes are in the hit list most wanted section of my WISH LIST.
So lets have a quick look on my favorite brushes that could be found in brands in India....Note - I am not aware of any Sephora India brushes and I have never used them to give my verdict. If anyone has great opinions about these brushes do let me know in the comments.
Its very important to invest in good quality brushes even though they may be a bit expensive then imagined. Not only they give you results better than expected or desired but also stay longer and truer to their cheaper counterparts that may not live upto expectations sometimes even after the first wash.
FOUNDATION BRUSHES
Shiseido Perfect Foundation Brush
Undoubtedly this is my favorite brush is this category. This small cute brush can do wonders on the skin.
Chanel Foundation Brush
Have you ever wanted a seamless application? Then this would do a great job for you thanks to the layers of bristles on this brush. This is on my wish list and shall be soon up for a review.
Chanel Blending Foundation Brush
This is the softest and smoothest brush on the planet. Chanel boasts to have not cut the bristles making them feel soft and supple against the skin and there is no benefit of doubt here. My bestest blogger friends own these and I am sure how much they rave about it.
Louise Young Super Foundation Brush
Its a humble request for all the brush junkies all over the planet to buy one of this brush, at least once in their life time. I saw the reviews and I was very very intrigued by the way this brush works and performs.
Real Techniques Expert Face Brush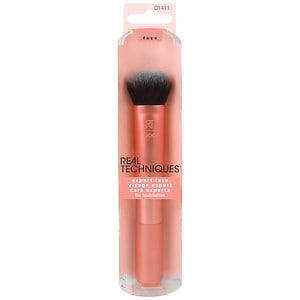 After getting this brush from
Iherb.com
I have decided to myself of never looking for anything better than this. This is a fabulous brush, perfectly tapered and hand cut to give the most perfect precision for seamless application of liquid, cream and powder products.
FINISHING BRUSHES (Powder, Blush and Miscellaneous Brushes)
Kevyn Aucoin Scuplting Brush
With the likes of Beauty Gurus, bloggers and famous international makeup artists, this is one brush that is a complete must have. Its known to create the chiseling effects only known to
Michaelangelo
. This is a perfect face sculpting brush that reaches the
right
areas with the
right
required precision and delivers the
right
amount of product. That's
right
- four times.....
Real Techniques Setting Brush
Please raise your hand if you own this....and if you don't then lower your hands, work your fingers, type www.iherb.com and buy it. It simply does wonders. It my staple highlighting brush and its getting better and better day by day.
Real Techniques Travel Essential Brushes
This kit has been assembled in a very smart manner. When not travelling, these three brushes are great products for finishing right from powders. highlighters, blushes and almost everything. My favorite is the multi-task brush which applies every product so beautifully. This one is for a fool proof application at home and on the go.
Estee Lauder Powder Foundation Brush
If you have this, then you've hit the jackpot. This is a perfect brush not just for applying powders or blending but also for giving the skin a polished effect. Truly speaking, the buffing action of this super smooth and super softest brush really helps give the skin a radiant finish. You must try this one out to experience what I have experienced. Its on the WISH LIST.
Shiseido The Makeup Blush Brush
Many came and many went into the bridal kit but this sustained its position in my personal brush kit and has done so for the last 5 yrs. Its just as intact as I remember to have bought it during my crazy Shiseido spree days. Its a complete brush ---- highlights, contours, colors everything. Even I tried applying cream blushers and had no qualms..
These are my favorite face brushes and soon the post for eye brushes follows. I would be putting the concealer brushes as a part of eyeshadow brushes btw. I shall be making a separate review on MAC, Chanel, Inglot and Lancome Brushes in some of the upcoming posts....so do keep reading, support the blog and let me know your favorites in the comments.
Till then,
Ciao
Please do not copy any pictures or content of Beauty Traveller without prior permission. Thanks for reading my blog. I don't give 100% on the authenticity of the content here and it is subject to change without prior notice. Please read the disclaimer for any questions.